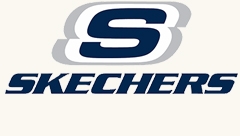 A $4.16 billion global leader in the performance and lifestyle footwear industry, Skechers USA, Inc. designs, develops and markets more than 3,000 styles for men, women and children. Skechers' success stems from its employees, high-quality, varied product offering, diversified domestic and international distribution channels, and targeted multi-channel marketing. The Company offers two distinct footwear categories: a lifestyle division and performance footwear. Through licensing agreements, the company also offers branded apparel, accessories, eyewear, scrubs and more.

THE CHALLENGE
In order to support rapid growth, Skechers had to achieve the goal of timely availability of critical business information and integration with existing processes. The company has offices across the US and Europe and integrated financial reporting was critical. Skechers had Peoplesoft hosted in their in-house data centers and managed by their internal IT organization. Due to the ever-changing business landscape and growth, Skechers decided to proceed with external hosting and managed services to ensure the availability and reliability of the Peoplesoft application.

THE SOLUTION
The OSI Digital team was comprised of a program manager, database administrator, system administrator and software architects. OSI used a phased approach to achieve the objectives of OS, database and service migrations for the customer. As part of the discovery phase, the OSI team conducted an inventory of all infrastructure, database and applications. The team then developed the architecture and design of the new setup and conducted the required end-user testing and gap analysis. Another key element of the solution was implementing and testing a high availability Disaster Recovery solution, migration of non-production and production infrastructure, testing by power users, and finally, handing off support of new infrastructure to the managed services group.
"By letting the technology experts manage the technology issues,  we are able to focus on our core business. OSI Digital has played a big part in making our projects a huge success."

Director, Financial Systems, Skechers
To download the full success story PDF, please register below.
THE RESULT
In order to support rapid growth, Skechers engaged OSI to achieve the goal of accessing critical business information quickly and integrating the data with existing processes.
Enhanced productivity & efficiency

Reduction in annual maintenance costs

Enhanced scalability & flexibility of infrastructure for deploying new applications

Improved performance on the new infrastructure

Disaster Recovery & High Availability provided by new infrastructure for mission critical Peoplesoft applications

Reorganization of database as part of implementing the new infrastructure

Well-defined ITIL processes & frameworks for support & delivery of services